If you're interested in an electrical construction career, want to apply as an apprentice electrician intern, or are working towards becoming a Journeyman Electrician, this program is for you. With "Power Up Your Future," we've built a comprehensive incentive program that goes beyond competitive wages and benefits.
We're invested in your growth and want to support you on your journey to success. These rewards can add up to an astounding $49,100, providing you with the financial boost you deserve while celebrating your accomplishments.
Program Benefits

Educational incentive up to $7,600

Double the amount over 3 years if you live in North Dakota!

PAID work experience
Mentorship opportunities from experienced electricians
Full-time career opportunities
Competitive wage and benefits
The Path to a Journeyman
To become a Journeyperson Electrician, you need 8,000 hours of experience not to be obtained in less than three years registered as an Apprentice Electrician + successfully complete Apprentice Electrician classroom training.
Attending an approved electrical school with 576 hours of classroom training counts as 2,000 credit hours towards your experience.
Education Costs Covered
Magnum Electric will cover up to $7,600 towards your classroom educational costs. With this opportunity, you can choose one of two paths:
Attend IEC or EA school once a week while working full-time for Magnum Electric as an Apprentice Electrician. This is a 4-year program which Magnum Electric covers the cost of tuition & books up front and deducts $50 per paycheck until final grades are calculated each year.
If you score 90% or above, Magnum reimburses 100% of the cost.  Passing (70% to 89%) we will do percentage points.
e.g., You achieve 87%, we reimburse you for 87% of tuition cost.
Be employed as an Apprentice Electrician Intern working 40 hours per week for Magnum Electric between Year 1 and Year 2 of attending a 2-year Electrical Construction vocational program.
Students can work part-time during the school year depending on class schedule and proximity. Upon graduation with a GPA of 3.0, receive a reimbursement annually for two years as long as you are employed full-time by Magnum Electric.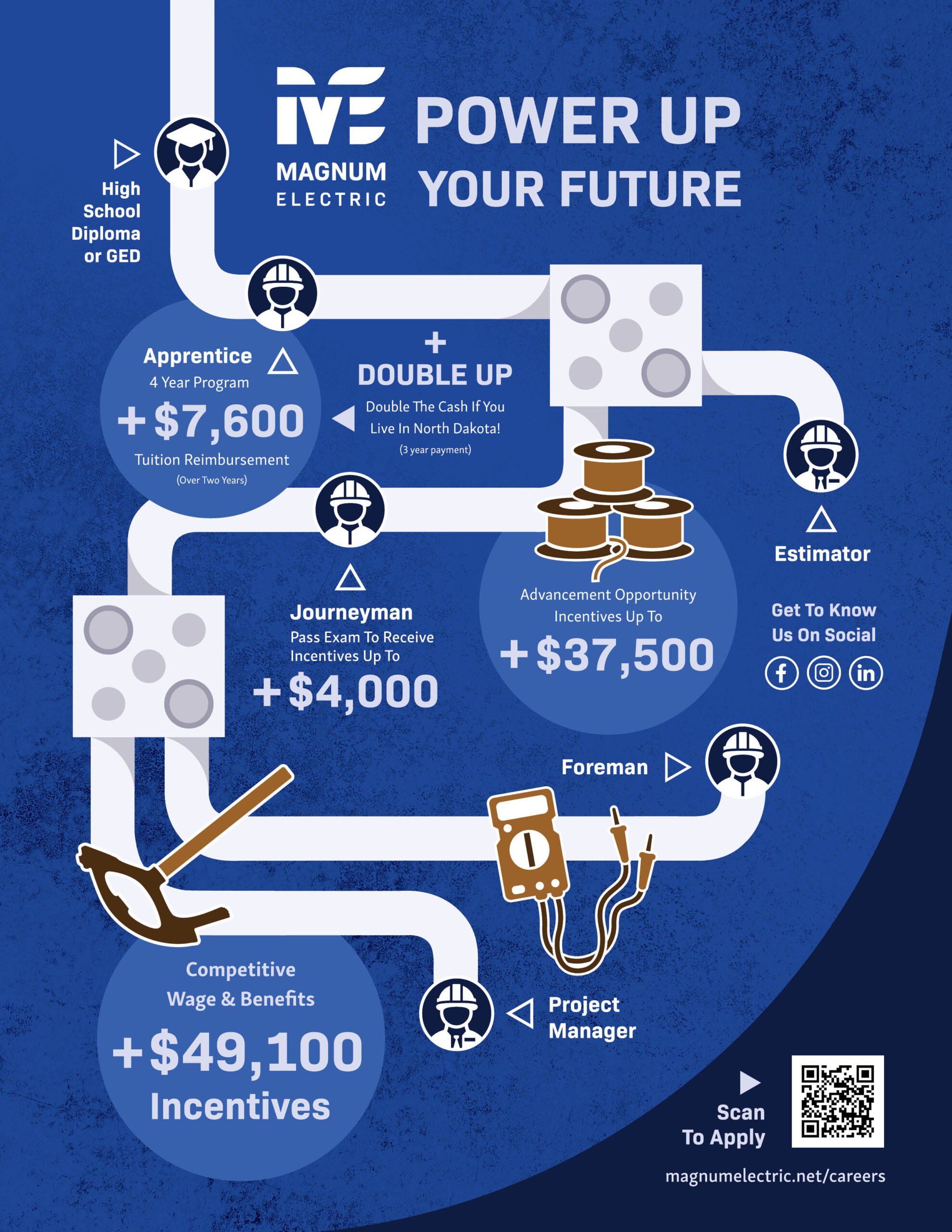 Apprentice Electrician Intern
Ready to Power Up your career?
Check out what states we're hiring in and fill out the application below!
Magnum Electric is an equal opportunity employer that strives to recruit and retain people who want to grow personally and professionally.
Fargo
Bismarck
Jamestown
Dickinson
Grand Forks
Arizona
Colorado
Iowa
Kansas
Nebraska
Oregon
Texas